Welcome to the Hyannis Fire Department
For Emergency Dial:  911
For Fire Administration Dial:  508 775-1300
For Board of Commissioners or Clerk/Treasurer Dial: 508 771-7348
The Hyannis Fire District was established in 1896.  It is the oldest of the five fire districts in the Town of Barnstable and is governed by a five member Board of Commissioners elected by the voters of the District.  If you see a red fire hydrant with a white cap then you are within the Hyannis Fire District.
The Department serves approximately 9 square miles of land as well as Lewis Bay and Hyannis Harbor.  The year round population of the district is 18,000.  During the summer months the population increases significantly with many as 100,000 visitors to our community.  Hyannis is the hub of Cape Cod and provides many unique services for its residents and visitors. The fire district includes: the harbor and ferries, that bring in over a million people per year; the largest hospital on the Cape; the state's third busiest airport; the transportation center; four high schools; a large shopping mall; numerous social service agencies and a bustling downtown.
District News & Meetings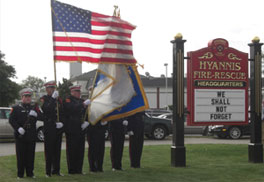 Staff
The current staff of the Hyannis Fire Department
View Staff
The Chiefs Message
A special message from Chief Burke of Hyannis Fire Department
Read More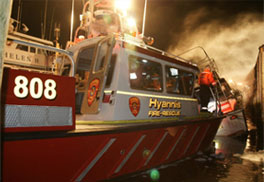 Photo Gallery
See what Hyannis Fire Department has been doing lately.
View Photos