About Fire Prevention
The Fire Prevention Division hours are from 7:30am-6:00 pm, Monday through Friday. Please call (508) 775-1300 Option 2 with any questions. You may also email fireprevention@hyannisfire.org.
The mission of the Fire Prevention Division is to offer services in public safety, fire prevention, and also conduct public education programs. Year round, we perform hundreds of commercial and retail space safety inspections to ensure compliance and safety. In addition, we also conduct smoke and carbon monoxide inspections for private house sales. We work closely with other town inspectional agencies, perform required school & health facility fire drills, public education and plan review.
We also are responsible for all aspects of fire department permitting.
The Fire Prevention Division also has key boxes on hand for purchase for Hyannis residents. Once purchased, the officers are happy to provide installation at no extra charge.
For our commercial properties, key boxes are available for purchase through www.knoxbox.com. The request will come automatically to Hyannis Fire.                                                      
We care about the residents of Hyannis! We happily provide safety inspections at no cost for any resident. We can review current smoke detector specifications, or just help change the battery. Please do not hesitate to call us.
Captain David Webb
Lt. Thomas Lanman IV
Lt. Gregory Shopshire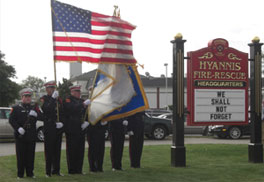 Staff
The current staff of the Hyannis Fire Department
View Staff
The Chiefs Message
A special message from Chief Burke of Hyannis Fire Department
Read More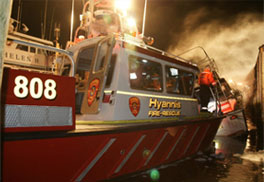 Photo Gallery
See what Hyannis Fire Department has been doing lately.
View Photos