What Type of Fire Extinguisher Should I Purchase For My Home?
A multi-purpose fire extinguisher is best for the home. Look for the rating to be at least 2A-10B C on the label. This extinguisher can be used on any type of fire commonly found in the home. It will often be labeled A-B-C. It is recommended that extinguishers be installed in the kitchen and in the garage.
Fire extinguishers are rated by what kinds of fire they are designed to extinguish. The Classes of fire are:
CLASS A: Ordinary combustibles such as wood, cloth, and paper.
CLASS B: Flammable liquids such as gasoline, oil, and oil-based paint.
CLASS C: Energized electrical equipment – including wiring, fuse boxes, circuit breakers, machinery, and appliances.
Posted in: FAQs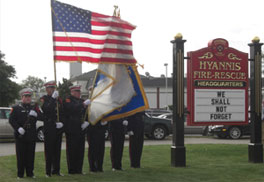 Staff
The current staff of the Hyannis Fire Department
View Staff
The Chiefs Message
A special message from Chief Burke of Hyannis Fire Department
Read More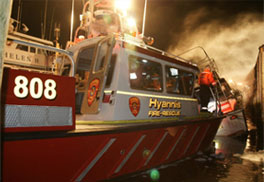 Photo Gallery
See what Hyannis Fire Department has been doing lately.
View Photos