Report of The Chief Engineer
As Chief of the Hyannis Fire-Rescue Department, I respectfully submit the following report on Department activities for the calendar year 2015.
The Department responded to a total of 7,002 calls for Fire, Rescue, Hazardous Materials and other Emergencies. This is an overall increase of 383 incidents (5.8%) from the previous year.
The financial loss due to fire decreased this year and is estimated to be $486,125. This represents a decrease of $1,303,026 (73%) from the previous year.
New Fire-Rescue Facility Update:  This past year and leading into the first few months of this year have been monumental regarding our efforts to get a positive vote by receiving a minimum 2/3rds vote from the citizens to fund the project. This great positive vote did not come easy by any means. A lot of hard work by a lot of people went into getting us over the top.
First, I wish to thank the Board of Commissioners, all of them, for their commitment to doing what was right, not necessarily what was popular. By working in unison with each other, myself, the personnel, the architects, the project manager and with the community, they worked tirelessly to see this through to a successful outcome.
We rolled up our sleeves, and together went through the plans, room by room, to see if there was any place to make additional cuts. It was not easy, I can assure you. Honestly, it was painful, but by working together we shaved off nearly 4,000 square feet with the hope of getting the costs down. Unfortunately, nearly a year and a half had passed and our hoped for savings were eaten up by inflation and the construction market.
Once it became apparent to all parties that we had cut as much as we could and that the costs would only continue to rise, the Commissioners took their message out to the citizens that the time had come to fund the project. Working with the citizens and firefighters to market the project, they took their case directly to the voters by asking for their support.
It is with great pride and jubilation that I can report that on April 9th, 2016, the citizens came out (the 4th such time) to show their support, once again, for the new fire station and, on this occasion, the citizens showered us with yes votes. We received 73% of the vote; 1,672 votes cast, 1228 yes to 444 no.
We got busy working on the next steps right away. It appears we have several months of work on final design, specifications & bidding, selection of a contractor, and qualifying bidders. The hope is to be out to bid in the fall and shovels in the ground late winter/early spring of 2017 with a completion by the summer of 2018.
I want the citizens to know that the morale of the department has improved significantly since the vote. Further, we will endeavor to build a station that is on time, on budget, is safe, efficient and built to hold up to the harsh New England weather and will last for many years to come. It will be a station that we can all be proud of!  My profound thanks to all of you.
The following are events that occurred this past year that I would like to share:
During the past twelve months, several members of the department achieved noteworthy longevity with Hyannis Fire-Rescue.  Certificates and pins, in recognition of their years of outstanding service and dedication to the citizens of our community, were presented to the following individuals:
30 Years:  Deputy Chief Dean Melanson;
25 Years:  Lieutenant Thomas Lanman, III, FF Andrew Kleamenakis, and Mrs. Diane LeRoux
January 1, 2015 – The following promotions took effect:
Lieutenant Mark Storie to Captain, and
Firefighter Brian Lawrence to Lieutenant
Congratulations on your well-deserved promotions.  It demonstrates by studying hard and putting in the extra time, the rewards are great, and were reflected in your scores and the final outcome.  Keep up the great work!
2015 was a Tough Winter – "A hydrant obstructed or buried by snow is the last thing first responders want to encounter when arriving at an emergency scene," a direct quote from Lt John Cosmo, one of our Fire Prevention Officers.  With more than 700 hydrants in the Hyannis Fire District, clearing them all of snow piles and drifts is a manpower issue.  We need help, especially in clearing them, so we can find them – before we need them.  When firefighters have to spend time clearing hydrants of snow and ice, public safety is at risk.  We could greatly use your support by Adopting-A-Hydrant in your neighborhood.  Many other communities have successfully implemented this program.  Please let me know if you would be willing to Adopt-A-Hydrant in your area.
In February, Lt Norman "Spanky" Sylvester, left our department, after 21 ½ years of service, to accept the appointment as Chief, of the Bourne Fire Department.  He has a bachelor's degree in fire science from Anna Maria College and is currently working on his master's in public administration.  He is a state certified Paramedic, state and nationally certified fire inspector, and a Hazardous Materials Program Coordinator at the Barnstable County Fire Academy.  He began his career as a call firefighter in Wareham in 1982 and transferred to our department in 1993.  His last assignment with us was that of Fire Prevention Officer.  We wish the Chief and his family the best of luck in his new assignment.
Mold and Ventilation Issues at Headquarters – Yes, unfortunately, this is a true statement.  It is no secret that the current facility is in tough shape and needs attention, but when firefighters become ill because of those conditions, (mold, poor ventilation, a leaking roof), it becomes an immediate hazard.  Professionals were called in to investigate the deteriorating conditions and were tasked to find remedies.  Solutions were suggested, deemed appropriate and repairs made – even if only short-termed.  To quote a Barnstable Patriot Opinion Piece, (author unknown), "How much should our rescuers endure?  It's about the people who spend their lives doing the job of saving ours.  Is that really something we should be putting a price tag on?"  I could not have said it better, myself. Fortunately, now that the new station has been funded, we now have a solid timetable of how long we will be in this facility. This way, we can now base our repair decisions and control the costs of those repairs more effectively.
Mr. Joseph Cotellessa – the "Mayor" of Main Street, Hyannis … owner of the Gourmet Brunch – passed away on February 18, 2015 at the age of 83.  Joe visited the firehouse on many occasions and was always thrilled to see one of us frequent his establishment.  He knew everyone by name, including your kids and the grandkids.  He was an active participant in our community his entire life, including being an honorary guest conductor with Pops-by-the-Sea and past President of the Hyannis Rotary.  He was a member of both the Hyannis and Cape Cod Chambers of Commerce, as well, and was known to dress up as Santa, in July.  It didn't matter if you were a movie star or a "regular," he enjoyed your company and wherever the conversation took you, and truly lived each day to its fullest.  We miss you, Joe.  Rest in peace.
February 27, 2015:  FF Andrew R. Hennessy, graduated from the Career Recruit Firefighter Class #224, in Stow, MA.  FF Hennessy was appointed as a permanent member of the Hyannis Fire Department effective:  September 1, 2015.  Congrats, Drew!
On March 30, 2015, Kyle Jacob, was appointed as a Probationary Fire-fighter/Paramedic.  Kyle comes to us from the Yarmouth Fire Department and previously attended Recruit, while a member of their department.  Welcome, Kyle!
In Good Faith:  we told the citizens we would attempt to sell two pieces of property the District owned, (the old station house at 501 Scudder, in Hyannis Port and a 2.8–acre parcel at 1174 Pitchers Way, in Hyannis), to help offset the cost of building a new fire station.  I am pleased to report we were successful in selling both parcels.
May Election – We said good-bye to two long-serving commissioners, Mr. Paul Sullivan and Mr. Joseph Chilli, as well as, District Moderator, Mr. Hugh Findlay.  All chose not to seek re-election. I would like to personally thank each of you for your valuable insight, vision and selfless dedication to the Fire District – its citizens and the members of our Department.  We wish you the best in your future endeavors.
Results of May 19th Election:  We welcomed new commissioners, former State Representative, Mr. Demetrius Atsalis, and Mr. Victor Skende. May your first term be full of excitement with the newness of the position and that you enjoy being part of this great organization.  We look forward to working for and with you.
Fire Boat 808 – In May, the Board of Commissioners, at the behest of Commissioner Joe Chilli, decided to pay additional respect to our former resident and friend, Senator Kennedy, by placing his name on Fire Boat 808, as well as the plaque that was previously installed.  The lettering has been placed on the brow, on both sides of the cabin.  For your information, if interested, Fire Boat Kennedy (or 808, for short), is tied up at the School Street dock, next to the Steamship Authority.
New Training Captain Position:  As of June 30th, 2015, Lieutenant Thomas Kenney, was promoted to Captain and assigned to the Training Division. He was the perfect choice for this assignment.  His background as an Instructor and educator in so many facets of the fire service, made him a strong candidate for this long overdue position.  Congratulations, Captain, and good luck in this new position.  Have fun with it and introduce our department to new opportunities and training scenarios.  The sky is the limit!
July 4th, 2015 – Saw two of our long-time members retire:  Lieutenant Richard Knowlton and Firefighter Richard McCormack.  Both members served a proud and distinguished 32 ½ years.  Rick Knowlton and DickMac are legends in their own rights.  Both brought a lot to the department outside of their regular duty assignments.  DickMac was a historian and enjoyed tracking down data and dates for those who served before us.  Rick never left an "i" undotted or a "t" uncrossed…ever! He has a passion for training and communications, which made him a natural choice, to become the new Deputy Director at Cape and Islands Emergency Medical Systems.  DickMac has chosen to go into business with his son.  Best of luck to both of them as they start the next chapters of their lives.  Thank you for your service to our citizens and to our department.
New Hires:  On July 13, 2015, we appointed four new hires as probationary employees:  Derek Menangas, Nathan Buckler, Kevin Powers and Wendy DeOliveira.  Derek was a member of Career Recruit Firefighting Class #235, graduating from the Massachusetts Firefighting  Academy on October 30, 2015.  Nate, Kevin and Wendy were members of Career Recruit Firefighting Class #236, graduating from the same academy on November 20, 2015.  Of special significance, I was honored to be the Keynote Speaker for this Graduation Ceremony.  Also, FF Powers was recognized as the recipient of the prestigious Richard N. Bangs Award, given to the outstanding student of Recruit Class #236.  His selection was based upon his achievements in both academic and practical skills.  A proud day for him and the HyFD.
In the Summer 2015 Edition of edible CAPE COD, a special story ran, entitled, "The Firefighter's Secret Ingredient."  The article was authored by Tom Dott, co-owner of the Lamb and Lion Inn on Cape Cod.  Tom was a member of a small party that had placed the winning bid on a donation by our department supporting the Hyannis Main Street Business Improve- ment District, for their annual fundraiser.  The night included a tour of the fire station, a ride on one of the trucks and dinner prepared by a Firefighter/Chef. FF/Paramedic Tom Corbett was the cook for the evening. (Tom is also a graduate of Paul Smith College in upstate New York with a culinary arts degree.)  A great time was had by all.
New Fire Prevention Officer:  On August 2, 2015, Captain Bill Rex transferred from "D" Shift to Day Staff, as the new Fire Prevention Officer.
Temporary Promotions – Also effective on August 2nd, the following temporary promotions took place:
 Lt Bob Hennessy to Acting Captain
FF Andy Kleamenakis to Acting Lieutenant
FF Jeff Lamothe to Acting Lieutenant, and
FF Jon Talin to Acting Lieutenant
August 31, 2015 – We hired Ron Buscemi as the department's Master Mechanic.  Ron competed with many of his peers in the mechanic community, but quickly rose to the top.  He hails from the Town of Plymouth where he held the position of Assistant Fire Department Apparatus Mechanic.  Since day one, he has blended into the department very smoothly.  His job knowledge and abilities to accomplish the multi-faceted technical work required on our apparatus and equipment is phenomenal.  His work ethic and positive attitude are both outstanding and refreshing. Ron has been a great addition to the staff at HyFD.  We welcome Ron and wish him the best with his career at HyFD.
On September 11th, 2015, we held our Fourteenth Annual Hyannis Fire Department 9-11 Memorial Service, honoring those who lost their lives on September 11th, 2001.  Invocation by Reverend John Terry of the Federated Church of Hyannis and Rabbi David Freelund of the Cape Cod Synagogue, Bagpipes played by BPD Lt David Cameron, and the National Anthem sung by Ms. Celeste Howe were all performed in a five-star manner honoring the event.  The Hyannis Firefighters Local 2172 Honor Guard, always sharp, presented the colors.  Approximately one hundred people stopped by to share in this solemn ceremony.  As we have promised each year, we shall never forget.
On September 15, 2015, former Hyannis Fire Commissioner Joseph Chilli, passed away peacefully, at the age of 91.  He was a graduate of the New England Conservatory of Music.  Joe served our great country in the U.S. Army, during World War II.  He was assigned to the 88th Troop Carrier Squadron, 438th Troop Carrier Group.  During his tour he was awarded Bronze Star Medals for his service in the Campaigns of Rome-Arno, Normandy, Northern France, Southern France and Germany.  He and his wife, Jeannette, moved to the Cape in 1968.  Together they ran the Brentwood Motel in South Yarmouth for 11 years, and later bought the "Galleria," on Main Street.  Joe was a member of many organizations and an elected Commissioner for twelve years.  Joe was a true gentleman and a real pleasure to work with. Thank you for your service to our nation and our community.  Rest in peace, Commish!
Throughout the year, we held promotional exams, (written and oral), for both Fire Captain and Fire Lieutenant.  Results were commendable with many candidates receiving high scores and passing both phases.
On October 2, 2015 – we said "good-bye" to another legend in the community, Mr. Louis Cataldo, who passed away at the age of 95.  Lou spent much of his life collecting, compiling and documenting Cape history.  He was particular about capturing data and facts in order to preserve the history, not just in Barnstable, but all over Cape Cod.  Prior to becoming an historian, Lou spent many years involved in law enforcement and public safety.  He was one of the "good" guys and will be remembered as someone who worked tirelessly and selflessly for the greater good. Lou was always willing to help HyFD in any way he could. Rest in peace, my friend.
Mr. Brett Grandaw – former member of Hyannis Fire Department, Brett passed away on November 18, 2015, in New York.  He was only 55.  He was a Firefighter and Paramedic on HyFD for 16 ½ years.  He graduated from Northeastern University with a degree in Paramedics.  He dedicated his life to public service, including working with FEMA for 17 years.  He was active in the rescue and recovery during 9/11 at the World Trade Center and also during the bombings in Atlanta during the Olympics.  May you rest in peace, Brett.
OPERATION WARM – Hyannis firefighters engaged the community in getting involved by supporting a fundraiser for their "Operation Warm" campaign.  This was the first year Hyannis Firefighters joined forces with the national non-profit Operation Warm movement, across the United States, to combat the effects of childhood poverty.  Spearheaded by Firefighters David Webb, Kyle Jacob and Drew Hennessy, their goal was to distribute new American-made winter coats to all students attending Hyannis West Elementary School.  Hy-West has approximately 285 children receiving free (or participating in the reduced) lunch program – that is almost 85% living at or below poverty level.  Firefighters were hoping to raise enough money to distribute coats to all 375 children attending Hy-West.  Through monetary donations, a 50/50 Raffle and a special event held at the Portside Tavern, their efforts were successful.  They raised over $21,000.00 and were able to purchase more than 600 bright, new coats.  Each coat was personally fitted for each child, and firefighters helped students write their names on the interior tag, that reads, "Made Especially For You."  Coats were distributed by Hy FD members on December 3rd.  Kudos to all and congratulations for your vision and compassion in supporting the youth in our community.
Airport Disaster Drill – The Triennial FAA mandated full-scale emergency drill at Barnstable Municipal Airport with local police and fire personnel was conducted on October 28, 2015.  Hyannis Fire played a major role in the coordination and set up of the exercise.  This was an invaluable and necessary training opportunity, with many agencies partaking and being involved.  It appears to get bigger and better every three years, and I believe it's because we have the best corporate knowledge, right here, from HyFD – ensuring it works.  Capt Eric Farrenkopf knows what to do and how to do it.   His expertise in coordinating and setting up what needs to be done for an exercise of this magnitude is unmatched.  He truly is the expert!  Kudos to all participants and a sincere thank you for your efforts in continuing to make the HyFD shine in the public arena.
Mr. Jeffrey Luce – Another great guy and trusted agent in our community, Jeff died on November 12, 2015, at the young age of 69.  As a communications specialist for NSTAR, he was well known for his work, where he served as a liaison between the company and the communities it served, including during and in the aftermath of, major storms.  He retired several years ago and became involved in multiple worthwhile activities, mostly volunteerism and serving on several committees and boards.  His absence is felt by many.  Rest in peace, Jeff.
November 22, 2015 – Promotions and Shift Changes took effect:
Lieutenant Gregory Dardia promoted to Captain
Acting Lieutenant Jeff Lamothe promoted to Lieutenant
Firefighter K. Curtis Pike promoted to Lieutenant, and
Firefighter Nathan Coughlan promoted to Lieutenant
Congratulations to all on your well-deserved promotions.  Good luck in your new assignments.
Also, a special thank you to Acting Captain Bob Hennessy and Acting Lieutenants Kleamenakis and Talin for their tours of duty in an acting officer capacity, from August 2nd through November 21st).  Jobs well done!
December 10, 2015 – The Department hosted an Officer Promotion and New Hire Ceremony, attended by over one hundred individuals, including many family, friends and former members of our department. To re-cap the event, the members cited below were recognized:
01 Jan:  Mark Storie to Captain
Brian Lawrence to Lieutenant
30 Mar:  Kyle Jacob, New Hire
30 Jun:  Tom Kenney to Captain
13 Jul:  Derek Menangas, New Hire
Nathan Buckler, New Hire
Kevin Powers, New Hire
Wendy DeOliveira, New Hire
02 Aug:  William Rex to Fire Prevention Officer
02 Aug:  Bob Hennessy, Acting Captain
Andrew Kleamenakis, Acting Lieutenant
Jeffrey Lamothe, Acting Lieutenant
Jonathan Talin, Acting Lieutenant
31 Aug:  Ron Buscemi, New Master Mechanic
01 Sep:  Drew Hennessy, Appointed Permanent
22 Nov:  Gregory Dardia to Captain
Jeffrey Lamothe to Lieutenant
K. Curtis Pike to Lieutenant
Nathan Coughlan to Lieutenant
Department personnel continue to devote their time and special skills volunteering in a variety of events in support of our community.  Below are examples of our continuing efforts to educate the public and enhance our partnership with the community:
 Hosted two Fire Nights at Hyannis Fire Department, as part of the Town of Barnstable's Citizens Leadership Academy
We continue to wear "red" shirts on Fridays and patriotic holidays to show support of our U.S. soldiers serving all across the globe, in the fight against terrorism.
11th Annual Firefighter Chili Challenge to benefit MDA
Hyannis Fire Department Honor Guard participated in the following:
Figawi Opening Ceremonies
Memorial Day Ceremony
Troops in the Spotlight
PFFM Convention
MACRS Opening Ceremonies
4th of July Parade
9-11 Ceremony
Opening Ceremony for Hyannis Chamber of Commerce Annual Banquet
Veterans Day Parade
Supported the Hyannis Chapter of the American Red Cross 100th Anniversary
Supported 6th Annual Friends of BCHMCPS Parent Social & Auction
Participated in Town of Barnstable 4th of July Parade
17th Annual "Kids Day" at Barnstable High School – donated 6 bikes
Pops by the Sea
Participated in the Pan-Mass Challenge
Participated in "Fill-the-Boot" Campaign to support MDA
Supported the 2015 Hyannis Main St., Annual Fundraiser
Sponsored one Barnstable High School Student Intern ~ Christian Gardiner
Sponsored Paramedic Intern Ride-a-Long for several individuals
14th Annual Hyannis Fire Department September 11th Memorial Service held at HyFD Headquarters
Participated in "Miles for Meghan," 1st Annual 5K Walk/Run
Several members coach Youth Hockey, Baseball and Football
Participated in Hyannis Youth & Community Center Touch-a-Truck Event
Harbor Lighting and Boat Parade – Hyannis Fire Boat 808 participated in Maritime Festival
Hyannis Village Christmas Stroll
8th Annual Cape Cod Police and Fire "Stuff-A-Bus" Challenge Parade Day
Santa Photo Day at Hyannis Fire and other holiday events
All members of this department – the officers, firefighters, and day staff deserve the highest praise and credit for their commitment and unselfish service to the District.  I personally wish to thank all individuals for their tireless dedication and professionalism, which they continue to bring to their jobs, every day.
In closing, I offer my sincere thanks and appreciation for the teamwork displayed, sharing of information and cooperation provided to the Department all through the year from:  the Board of Commissioners; all the Town agencies; the Fire Departments of Yarmouth, Centerville-Osterville-Marstons Mills, Barnstable, West Barnstable and Cotuit; Chief Paul MacDonald and the members of the Barnstable Police Department.  A special thank you to the Hyannis Chapter of the American Red Cross and the members of their Canteen Unit for their timely response and exceptional support at emergency scenes.
Lastly, I wish to acknowledge the public for their many cards and letters of appreciation recognizing the efforts and accomplishments of department members.  Your kind words and thoughtful gestures throughout the year are genuinely appreciated.  It is, indeed, our pleasure to continue to serve the citizens of the Hyannis Fire District.
Respectfully submitted,
HAROLD S. BRUNELLE
Chief of Department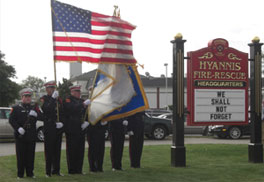 Staff
The current staff of the Hyannis Fire Department
View Staff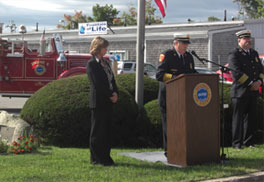 The Chiefs Message
A special message from Chief Brunelle of Hyannis Fire Department
Read More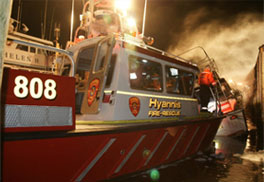 Photo Gallery
See what Hyannis Fire Department has been doing lately.
View Photos